Welcome to the Global Issues Network Global Ambassador Program!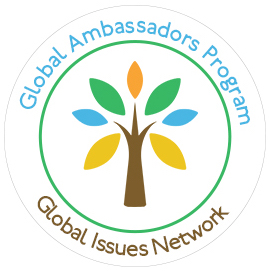 Dear GIN Community,
Since the launch of Global Ambassadors Pilot Program in 2015, our objective has been to develop and provide inclusive, meaningful and empowering support and programming to young change-makers around the world. As part of the GA Program we have asked for continuous feedback from our Global Ambassadors and GIN educators. We see our community members as not just participants but as co-developers of our programming.  We ask our GAs and educators to test, apply and give us feedback based on their insights and experience of our programming. In the coming school year of 2017-2018 we are forging ahead with what we have learned to meet our objective in line with our values as lifelong learners and global citizens. With this said, the Global Ambassadors Pilot Program will not be running in 2017-2018 but we look forward to working with you following school year in 2018-2019.
This year we plan to take the time to rework our program with a team of GAs! We will consider the students who have submitted their applications as potential team members based on their past GIN experience, evidence of their dedication to empathetic sustainable action as as lifelong learners, and their ability to meet the time commitment of 4-6 hours a week. Your support and faith in our work is truly inspirational.  
If you are interested in applying to become part of our team as a co-developer for any of the following programs we we will be launching in 2018, please contact Valeria Wu, the GAP Youth Director at valeria@globalissuesnet.org for more information on how to get involved.
Upcoming programs:
Global Ambassadors Program

Global Mentors Program

Creating Connections Program

Social Media Program
Please don't hesitate to reach out to us with any questions, concerns or ideas!
The GAP Team
GIN Mission
To empower young people to collaborate locally, regionally, and globally, in order to create project-based solutions for our shared global issues.
To recognize and nurture youth empowerment.
GAP Vision
The Council of GIN Ambassadors will promote global dialogue, leadership and action through collaboration; empowering students to develop sustainable, socially responsible solutions for their local-global community. 
Overview of the GAP
The GIN Global Ambassador Program, a youth-led branch of the Global Issues Network, was founded in 2015 and has worked with 80+ students, ages 14-18, from over 30 nationalities.
The GIN Global Ambassadors are a team of community builders who value honorable leadership, global collaboration, lifelong-learning and service. Moreover, Global Ambassadors will seek to engage local action in partnership with local school communities in their region; recognizing that their school communities have a responsibility to act as epicenters and testing grounds for empathetic change and social justice. The GAP learning community intends to study and deliver honed understandings, tools, and models of effective local-global empathetic change that will strengthen community culture, learning, global dialogue, and action.
The students who join the program are committed to personal growth and discovery as leaders of today. Global Ambassadors are dedicated to creating and developing a supportive global learning community and network of active changemakers. Global Ambassadors champion empathetic and equitable sustainability as they develop their community-centered GIN projects in order to create real and lasting impact.  Global Ambassadors understand that community centered change is a continuous learning process.
GAP Requirements
Time Commitment:

2 years

Weekly Time Commitment:

4 hours per week

GA Mentor:

GIN Mentor who will consistently advise, guide and assist through the course of the 2 year Global Ambassador Program.

The mentor must be an educator who has a strong relationship with the Global Ambassador and that values the ethos of GIN

Age Requirement:

7th grade or above (or the equivalent)

Gmail Account:

Ambassadors are required to have a Gmail account to communicate between Global Ambassadors and GIN Staff as well as to receive updates, instructions, materials, tools, and resources from GAP leaders
GA Qualities
Identifies And Values Their

Global citizenry
Honorable leadership
Empathetic, community-centered collaboration
Lifelong learning
Equitable sustainability
Environmental justice
Community advocacy through civic engagement

Effective Communicator And Team Member

Hold a belief in their team as capable with respect and trust; actively lead from behind

Practice active engagement and listening

Interest in critical feedback, suggestions for improvement, and collaborative problem-solving

Have prior experience or willing to learn Project Management:

Time management
Team management and support
Collaborative project task break-down and delegation
Design & Systems Thinking
Encouraging personal strengths and supporting personal challenges
Communicate clear expectations
Deliver with professionalism

Active Global Citizen

Passion for creating, developing and fostering sustainable solutions within their local-global community

Lifelong commitment to learn, grow your knowledge and understanding of one's self and our shared world