Our school believes in helping out our community. That is why we have a lot of student-led initiatives that give our students this opportunity.
Refugee and Reaching Out Club
Both of these clubs work closely with refugees from the Linin and Dębak camps in Poland. The refugees are predominantly from Chechnya (who sought protection from the Second Chechen War and other dangers), but there are quite a few others from different countries (such as Armenia) and ethnic groups.
Refugee Club
The Refugee Club hosts events at ASW or takes trips to the refugee camps in Linin and Dębak. The locations affect their activities but generally, the prepared activities are all made to entertain and simply have fun. Some of the club's regular activities are cooking, crafts (like drawing or face painting), sports, games, and even making cotton candy. The overall goal is to integrate the refugees into the community in order to establish a better relationship and create lasting memories of happiness.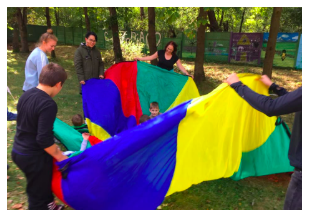 Reaching Out Club
The Reaching Out mainly teaches the visiting refugee children Polish and English. The club also does special sessions such as cooking, craftsmanship, and events like a scavenger hunt in order to teach them in different, engaging approaches. The overall goals for this club are to further educate the visiting guests and children and help all the participants, including the club members, with their communication skills and getting through the language barrier.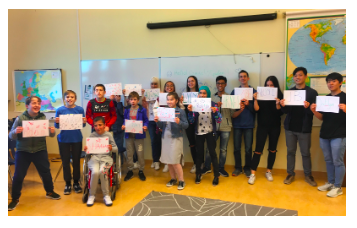 The club is concerned with raising awareness about environmental issues including air pollution, raising awareness about wasting resources, increasing the school's sustainability, and furthering the talks about ocean pollution – just to name a few. The club also takes part in environment-related activities; tree planting, plant propagation, recycling awareness, environmental clean-up, grounds garden projects. In addition to this, tangible change can be felt around the school from task-based delegated projects in order to enact lifestyle adjustments throughout the ASW community. Last year, the school became plastic-cup-free, one of the many accomplishments that allow our school to improve upon the ecological footprint.
KIVA Club led for the second year by, now, a High School Senior is a 501 non-profit organization that allows people to lend money via the Internet to low-income entrepreneurs and students in over 80 countries. KIVA's mission is "to expand financial access to help underserved communities thrive." In ASW, KIVA organizes special activities/events where the money is collected and then funded to a specific low-income entrepreneur. Last school year, ASW's KIVA Club funded around 3000 zlotych and is planning to raise to the amount, even more, this year. They already have a movie night planned on the 24th of October and cannot wait to help others achieve their dreams.