For the past years, the Global Issues Network (GIN) has been an ambitious worldwide event that brings schools around the world together, with the goal of empowering young people to collaborate and create solutions for global issues. However, we believe that international solutions should begin locally. 852 is the area code and also a colloquial term for Hong Kong. Hence, GIN852 both embodies the original international focus of GIN conferences and our unique local context. 
International C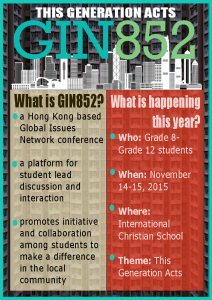 hristian School will be hosting the third GIN852 conference on November 14-15, 2015. It is our hope that the conference will provide a great opportunity for students all over HK to work together, learn, and build valuable relationships. The theme is "This Generation Acts", as it is our hope to inspire the next generation of leaders to take initiative towards action.  Building on the promising start of the last conference, the student leaders hope to continue the initiated effort through more inspiring keynote speakers, global issues fairs, and GANG (Global Action Network Group) discussions.
Follow us on our Facebook, Youtube,  Instagram, and Twitter accounts!