Our GINstory
Global Issues Network was born out of a combination of urgency and foresight for the sake of future generations and the health of the planet.  In 2003, a group of teachers and administrators at the International School of Luxembourg were discussing the challenges facing youth today.  It was at this time that these same educators had been audience to Jean-François Rischard's recently published book, High Noon: Twenty Global Problems, Twenty Years to Solve Them (2002).  Rischard's book was a road map to solutions that underscored the urgency for immediate action.
Jean Francois Rischard described imminent issues such as water shortages, climate change, infectious diseases, poverty, and illiteracy, that could only be solved through global cooperation.  Rischard noted that the existing institutions charged with addressing global issues, namely appointed departments of government within nation-states and international organizations, were inadequate for the task. He found that many of the bureaucratic structures that these institutions relied on consequently delayed action. This delay in action only increased the negative effects of the global issues we face, making it even more difficult to find viable solutions before it is too late. In his book,
High Noon,
he called for the creation of "global issues networks" that would be flexible, collaborative and super-responsive to an ever-changing world.
Educators found themselves looking to the energy of their students to create this change.
How GIN Grew
In 2006, 300 students from 28 schools traveled to participate in a GIN Conference in Luxembourg through the support of State Street Bank. At the inaugural international GIN Conference in Europe students met and listened intently to Mr. Rischard, heard inspiring young speakers like Ryan Hreljac, and learned about each other's projects around the world. It must have been a success, because there's been a GIN conference in Europe every year since.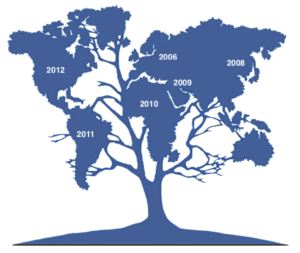 Within that very same year (2006), Rischard was invited by regional directors in East Asia to share his thinking. Inspired by his message students, educators and school heads alike from the region took up their global citizenship and answered our shared call to action as members of the Global Issues Network. This not only began an annual tradition of regional conferences of over 500 participants beginning in Beijing in 2008 but lead to local GIN conferences, as well as middle school GIN conferences in East Asia.
Soon after the Middle East and Africa (Global Issues Service Summit: GISS) took up the Global Issues Network with annual regional conferences of their own.
South and Central America embraced the Global Issues Network regional GIN conference in 2011, establishing a yearly moving regional conference tradition.
In 2012 the North Americas region began working with the Global Issues Network to hold their first regional international conference.  GIN now provides a platform in collaboration with the National Association of Independent Schools (NAIS: US based association), for the NAIS Challenge 20/20 students and teachers who wish to continue their work on global issues.
Where GIN Is Today
Since it's small grass roots beginning, the Global Issues Network has grown rapidly to become a region-strong global network of empowered GIN student changemakers, spanning the globe across Europe, Asia, Africa, the Middle East, North America, South and Central America. GIN continues to support and grow sustainable youth-led empowerment that now includes an active body of alumni in universities and beyond. Our GIN students grow to become lifelong learners who understand the imperative of staying involved and taking action.
"Never doubt that a small group of thoughtful, committed, (global) citizens can change the world. Indeed, it is the only thing that ever has."
― Margaret Mead
In 2013 GIN won fiscal sponsorship from Buckminster Fuller Institute.
GIN is currently fiscally sponsored by the Social Good Fund.