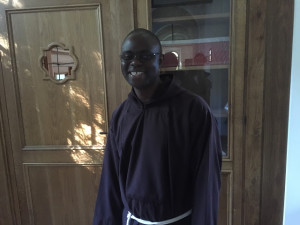 Brother Benedict Ayodi OFM Cap is the Capuchin Franciscan General Curia secretary for Justice, Peace and Ecology.  Br. Ben had earlier worked in Kenya following the completion of his Master's in International Relations in New York.
Benedict is promotes  the spirit of St. Francis that we should be heralds of peace and salvation, not just proclaiming them by our words but spreading them by deeds inspired by fraternal charity. Like Pope Francis, Br. Benedict, has shown a great interest in justice, peace and ecological issues.
Br Benedict is a member of  the Justice, Peace and Integrity of Creation (JPIC) working group which has the Vision that "With their unparalleled presence throughout the world, the world's religious congregations could be the decisive force that helps tip the scales within the Catholic Church in favor of a world of climate safety and justice for future generations."
The Purpose of the Integrity of Creation Working Group (ICWG) is to work to gather information, to increase awareness, to provide informed reflections and to suggest actions concerning the environment. Within the networking possibilities of the JPIC Promoters in Rome, the members provide formation resources, encourage religious congregations to be proclaimers of an ecological dimension to our faith, share contributions, and publicize initiatives that religious congregations are continuing to make for the care of creation.