About the GIN Paris2015 Conference
Given the global importance of the United Nations Conference on Climate Change, it is essential that our youth be sensitized and educated about the factors that cause harm to our beautiful planet. Thus, the GINParis 2015 Conference was launched in partnership with Global Issues Network (GIN) and Marymount International School, Paris. This conference will be a 'MiniCOP 21' aimed at Middle School students interested in learning about developing action plans on what and how they can best respond to the challenges facing the world as a result of climate change as as a unique English medium event for children during the period of the COP21 UN Conference on Climate Change hosted in Paris.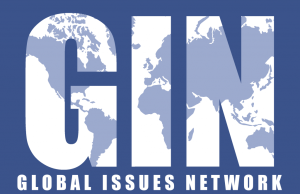 The Global Issues Network (GIN) nurtures and mobilizes transgenerational communities of global citizens to build a just and sustainable present. Their mission: To empower young people to collaborate locally, regionally, and globally in order to create project based sustainable solutions for global issues.
Marymount International School, Paris is an international, private, Catholic, co-educational school offering an internationally recognized, standards-based curriculum to students of all faiths, aged 3 to 14 years. Marymount was founded by the Religious of the Sacred Heart of Mary (RSHM) in 1923. Today, it is the oldest international school in Paris and a member of the RSHM Network of Schools, which includes 19 schools and a partnership with several missions in Africa. Marymount is accredited by the Council of International Schools (CIS) and the Middle States Association (MSA).