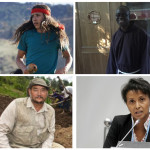 The program of events for #MiniCOP is outstanding. The Conference will be launched on Friday 4th December by Br. Benedict Ayodi OFM Cap, the Capuchin Franciscan General Curia secretary for Justice, Peace and Ecology. Br. Benedict will speak about Pope Francis' encyclical Laudate Si and the call the Church makes to humanity to "Care for our Common Home." Additionally Merlyn Van Voore,will speak about her work and experiences with UNEP and John Liu will address delegates about his life as a journalist, film director and environmentalist. Running simultaneously will be workshop activities focusing on sustainable living and service learning. La Ferme Européenne des Enfants will work with student delegates throughout the duration of #MiniCOP giving them real hands on experience of life on a farm and sustainable lifestyles.
We are privileged to be joined at #MiniCOP by students and staff from the Green School, Bali. The Green School "Green Generation" students will present a 15 minute dramatic performance, which is an edited version of their original plastic musical, 'Noble Material.' They also have short presentations ready, which discuss their social and environmental initiatives, such as; the Bio-Bus/Kul-Kul Connection scheme, Bye-Bye Plastic Bag campaign, and raising awareness for the Kalimantan fires and palm oil production. Please find some links to their students below:
Their social media name is greenschoolgreengeneration, here is the link to our Facebook (https://www.facebook.com/gsgreengeneration/?fref=ts).
Here are some links to "Noble Material." https://www.youtube.com/watch?v=Unj51UZLJ3g and https://noblematerial.wordpress.com
The Earth Guardians will also join us at #MiniCOP to talk and rap about how issues of Climate Change are so pertinent to young people. The Earth Guardians are led by Xiuhtezcatl Martinez , a 15-year-old American indigenous change agent, environmental activist, public speaker, eco hip-hop artist, and the Youth Director of Earth Guardians– Xiuhtezcatl is a powerful voice on the front lines of the youth-led climate movement. He performs internationally at music festivals, organizes demonstrations, and has spoken at over 100 high-impact rallies, events and conferences around the globe. He and his brother, Itzcuauhtli, regularly give school presentations to ignite and inspire youth to step up as leaders and take action on behalf of the planet. It is amazing that these inspirational young people are joining us at our Conference.
Our program is jam packed as we also have Sr. Veronica Brandt RSHM from the United Nations in New York scheduled to address delegates as our closing keynote speaker. Sr. Veronica has spent her life devoted to campaigning for social justice and the effective stewardship of creation. She has lived and worked extensively with the poor and vulnerable in Zambia and Zimbabwe and is now based at the UN in New York.
No Planet B, Amazon Aid, CliMates, Cut the Red Tape, Franklin D. Roosevelt School, Lima, Peru, the American School of Paris and representatives of the U.S. State Department are also scheduled to play a part in #MiniCOP.
The Conference is going to be informative, educational, fast and fun! Only today's children can save the planet and #MiniCOP is an opportunity for their generation to be the generation to make the change.
For more information please contact ascarlett@marymount.fr