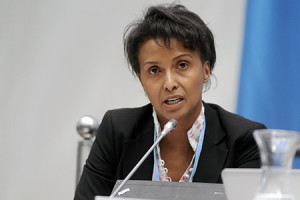 Merlyn Van Voore is the coordinator for UNEPs engagement with the Adaptation Fund. In this role she leads and facilitates UNEPs role as a Multilateral Implementing Entity of the Adaptation Fund, assisting countries to design and implement adaptation project proposals. Ms Van Voore also leads UNEPs global direct access support programme that focuses on building the institutional capacity of countries to enable them to directly access finance from the Adaptation Fund. She also provides policy support, partnership development and advocacy on adaptation finance, and was a member of the technical support team for the design of the Green Climate Fund.
Ms. Van Voore previously worked at the South African Governments Department of Environmental Affairs as a Senior Policy Advisor focusing on multilateral environmental agreements, including climate change. She was a member of the South African delegation to UN climate change negotiations, focusing on climate finance. She aso worked on a number of donor-funded (GEF, bilateral and multilateral) climate change projects and coordinated the development of South Africas clean technology investment plan under the World Banks Clean Technology Fund. During her time with the Environmental Affairs Department she was a member of the Adaptation Fund Board, and also served on the sub-committee of the World Banks Pilot Programme for Climate Resilience (PPCR)
Previous positions included work as a technical advisor for UNDP, UNICEF and the Canadian International Development Agency. Ms. Van Voore holds a Masters Degree in Public Policy and Economics from the London School of Economics and an MSc from the University of Oxford.