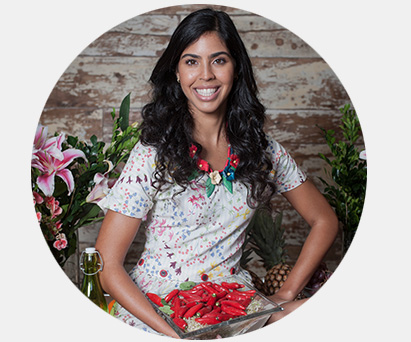 Bela Gil was still a teenager when she discovered yoga. With the activity she began to get interested in the physical and psychological benefits of healthy cuisine. When she was 18 she moved to New York, where she lived for almost eight years. Having to cook her own food and willing to keep up with a healthy life, Bela decided to deepen her knowledge about culinary and nutrition. She graduated in Natural Culinary at the Natural Gourmet Institute and in Nutrition and Food Science at the Hunter College.
To deepen her knowledge, she studied Macrobiotic and Ayurveda philosophy, where she discovered that the alimentary choices we take affects not only our health but also of the whole environment. Bela thinks that eating is an act of compassion with ourselves and with the entire world. Still in New York she started working as a personal chef and nutritionist to close friends that, happy with the results, soon began to indicate her work to other people, increasing the interest regarding her job. Bela also was an intern at two very popular vegan restaurants in Manhattan: Candle Café and Candle 79.
In 2014 Bela came back to Brazil and started ministering culinary classes as well as private consultations and evaluations as an Alimentary Advisor. Soon after she got to Brazil, Bela was invited to start a cuisine tv show at GNT called "Bela Cozinha". After less than one year making a huge success with her show she decided to release the "Bela Cozinha – As Receitas" book with some of the recipes of the first season. It stayed at the top of the bookstores ranking lists for months.
Heading to the fifth season of "Bela Cozinha" and with other projects happening in the meantime, such as the SPA da Bela, Bela Infância and more, Bela is one of the main national references of a healthy and conscious cuisine and has as her goal to change the world through alimentation.